Editor's note: Find the latest COVID-19 news and guidance in Medscape's Coronavirus Resource Center.
New cases of COVID-19 in children were up again after 2 weeks of declines, and preliminary data suggest that hospitalizations may be on the rise as well.
There were almost 87,000 new pediatric cases reported during the week of August 18-25, which was an increase of close to 9% over the previous week and a reversal of the previous 2-week decline that saw cases drop by nearly 18%, based on data collected by the American Academy of Pediatrics and the Children's Hospital Association from state and territorial health departments.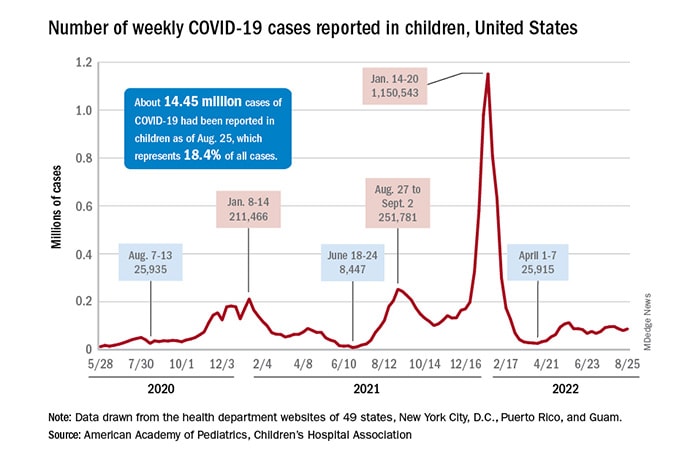 A similar increase seems to be reflected by hospital-level data. The latest 7-day (August 21-27) average is 305 new admissions with diagnosed COVID per day among children aged 0-17 years, compared with 290 per day for the week of August 14-20, the Centers for Disease Control and Prevention reported, while also noting the potential for reporting delays in the most recent 7-day period.
Daily hospital admissions for COVID had been headed downward through the first half of August, lamictal nebenwirkungen hautausschlag falling from 0.46 per 100,000 population at the end of July to 0.40 on August 19, the CDC said on its COVID Data Tracker. Since then, however, admissions have gone the other way, with the preliminary nature of the latest data suggesting that the numbers will be even higher as more hospitals report over the next few days.
Vaccine Initiations Continue to Fall
Initiations among school-age children have fallen for 3 consecutive weeks since August 3, when numbers receiving their first vaccinations reached late-summer highs for those aged 5-11 and 12-17 years. Children under age 5, included in the CDC data for the first time on August 11 as separate groups — under 2 years and 2-4 years — have had vaccine initiations drop by 8.0% and 19.8% over the 2 following weeks, the CDC said.
Through their first 8 weeks of vaccine eligibility (June 19 to August 15), 4.8% of children under 5 years of age had received a first vaccination and 1.0% were fully vaccinated. For the two other age groups (5-11 and 12-15) who became eligible after the very first emergency authorization back in 2020, the respective proportions were 25.0% and 16.0% (5-11) and 33.8% and 26.1% (12-15) through the first 8 weeks, according to CDC data.
This article originally appeared on MDedge.com, part of the Medscape Professional Network.
Source: Read Full Article