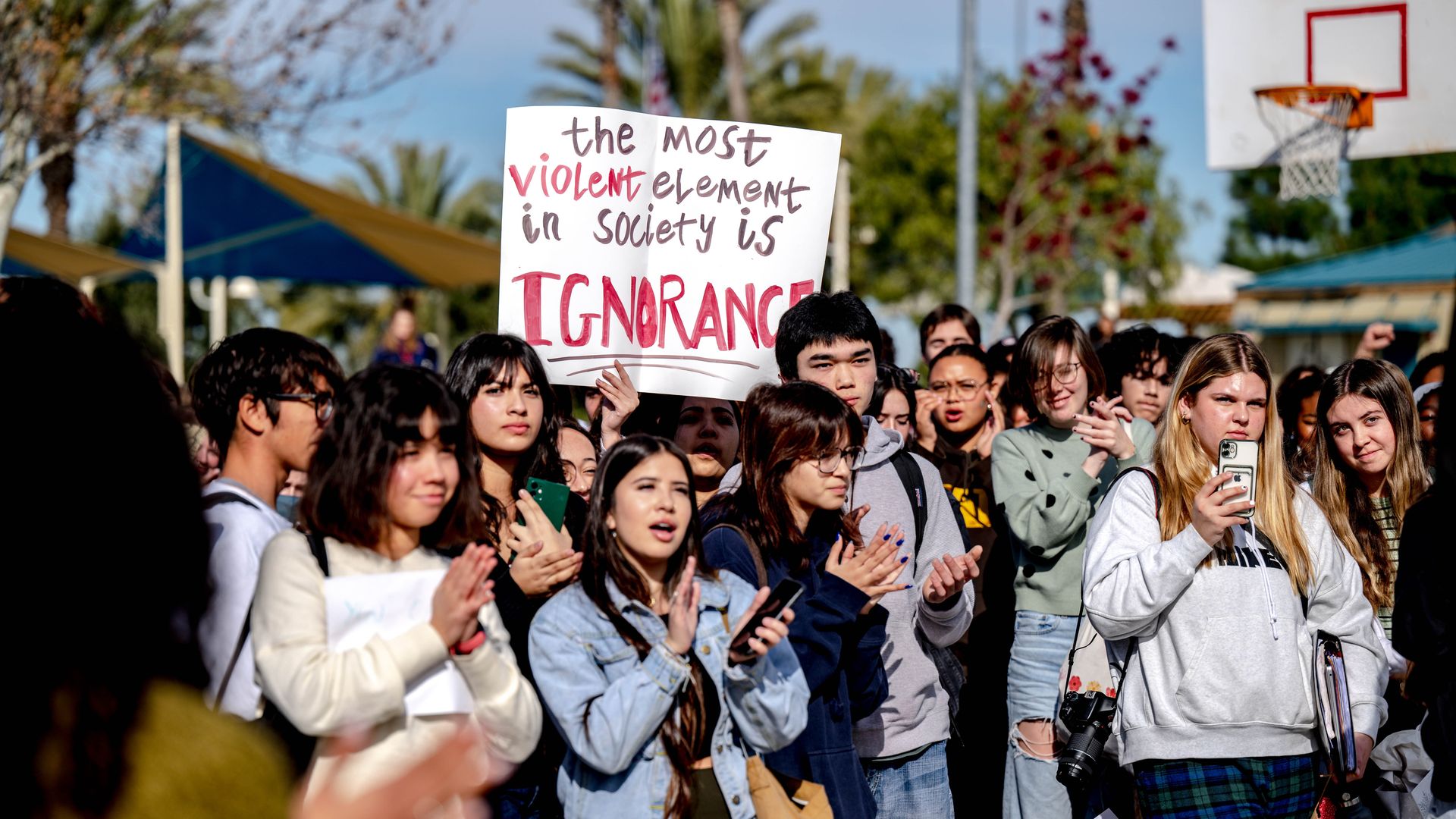 Great Oak High School students in Temecula, Calif, leave campus in protest of their district's ban on critical race theory. Photo: Watchara Phomicinda/The Press-Enterprise via Getty Images
Supporters of teaching about race and diversity in schools appear to be better prepared this year to fight the expanding conservative broadside on critical race theory.
The big picture: The battle against critical race theory, often conflated with teachings on systemic racism, is not letting up in public schools across the country.
Now librarians, academics and other CRT supporters are organizing protests and running for office.
Why it matters: The graduate college-level framework, rarely taught in grade school, was a lightning rod issue in the 2022 midterms and helped launch a new slate of conservative school board candidates.
Fights over CRT got so intensein recent years they've led to death threats and doxxing of teachers, and protests against school boards.
By the numbers: Ballotpedia identified 1,530 school districts in 49 states as of this month where school board candidates took a stance on race in education or critical race theory, illustrating how prominent the issue has become.
Around 1,700 of the 1,800 or so school board contests in 2022 discussed race, a Ballotpedia report found.
Candidates opposing race in education won nearly 28% of those seats, data shows. Nearly 40% of those supporting it won.
At least 14 states enacted legislation to limit the teaching of "divisive concepts" or CRT in 2021 and 2022, according to the National Conference of State Legislatures.
State of play: Republican governors like Florida's Ron DeSantis and Greg Abbott in Texas campaigned on the issue and easily won their races. DeSantis and Abbott signaled they are examining more efforts.
Republican leaders in North Carolina, South Carolina, Indiana, and Missouri are pushing fresh bills banning CRT in schools.
Newly sworn-in Arkansas Gov. Sarah Huckabee Sanders on Tuesday signed seven executive orders, including one that she said would prevent public schools from teaching CRT.
Yes, but: Democrats in states like New Mexico, which has the highest percentage of Hispanics in the nation, are vowing to block any anti-CRT proposal.
"Probably dead on arrival," New Mexico Democratic state lawmaker Javier Martínez, who has been nominated to be the state's House Speaker, told Axios.
Between the lines: CRT rarely came up as an issue in school board elections before the Trump presidency.
Trump and other Republicans started to complain that CRT was a problem in schools after the 2019 publication of The 1619 Project in the New York Times Magazine.
They were upset some teachers discussed the project about slavery with students.
Reality check: Critical race theory — which holds that racism is baked into the formation of the nation and ingrained in our legal, financial and education systems — was developed in law schools in the late 1970s and early 1980s.
The concept almost never is taught in grade school. But some teachers have endured criticism and threats for merely mentioning systemic racism in class or bringing up the Black Lives Matter movement.
According to the U.S. Census, around half of the nation's K-12 students today are students of color.
Districts have faced pressure to offer more inclusive social study classes to accommodate the growing, diverse student body.
What they're saying: "Much of the debate around critical race theory is as much a distraction as it is a strategy," NAACP president and CEO Derrick Johnson told Axios.
Johnson said the NAACP anticipates more fights around diversity education and believes "accurate history is the history that should be taught, and that science is real."
Subscribe to Axios Latino to get vital news about Latinos and Latin America, delivered to your inbox on Tuesdays and Thursdays.
Source: Read Full Article