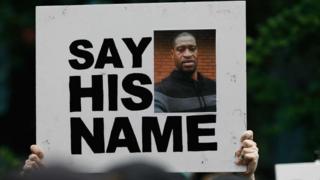 Violence has erupted in cities across the US over the death of African-American George Floyd, after he was physically restrained by police in Minneapolis.
We've looked at some of the data around crime and justice in the US, and what it shows about the experience of African-Americans when it comes to law and order.
1. African-Americans are more likely to get fatally shot
The figures that are available for incidents in which the police shoot and kill people show that for African-Americans, there's a much higher chance of being fatally shot relative to their overall numbers in the US population.
In fact, in 2019, although African-Americans made up less than 14% of the population (according to official census figures), they accounted for more than 23% of the just over 1,000 fatal shootings by the police.
And that figure has been relatively consistent since 2017, whereas the number of white victims has come down since then.
2. African-Americans are arrested at a higher rate for drug abuse
African-Americans are arrested for drug abuse at a much higher rate than white Americans, although surveys show drug use at similar levels.
Drug abuse arrests by race
In 2018, around 750 out of every 100,000 African-Americans were arrested for drug abuse, compared to around 350 out of every 100,000 white Americans.
Previous national surveys on drug use show that white people use drugs at similar rates, but African-Americans continue to get arrested at a higher rate.
For example, a study by the American Civil Liberties Union found that African-Americans were 3.7 times more likely to be arrested for marijuana possession than whites, even though their rate of marijuana usage was comparable.
3. More African-Americans are imprisoned
African-Americans are imprisoned at five times the rate of white Americans and at almost twice the rate of Hispanic-Americans, according to the latest data.
In 2018, African-Americans made up around 13% of the US population, but represented almost a third of the country's prison population.
White Americans made up around 30% of the prison population – despite representing more than 60% of the total US population.
That's more than 1,000 African-American prisoners for every 100,000 African-Americans, compared to around 200 white inmates for every 100,000 white Americans.
Prison population per 100,000 people by race
The US prison population is defined as inmates sentenced to more than a year in a federal or state prison.
Imprisonment rates have dropped for African-Americans over the last decade, but they still make up more of the prison population than any other race.
US protests timeline
George Floyd dies after police arrest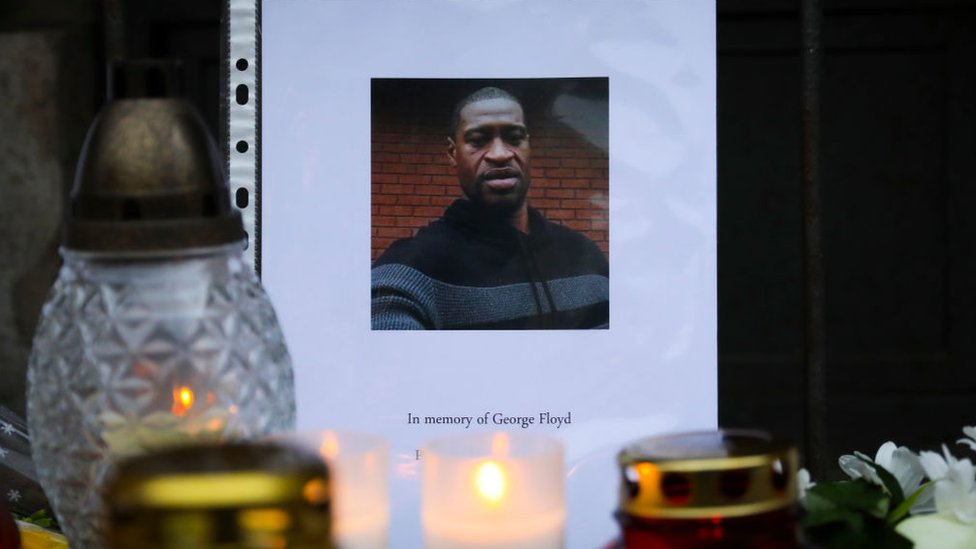 George Floyd dies after being arrested by police outside a shop in Minneapolis, Minnesota. Footage shows a white officer, Derek Chauvin, kneeling on Mr Floyd's neck for several minutes while he is pinned to the floor. Mr Floyd is heard repeatedly saying "I can't breathe". He is pronounced dead later in hospital.
Protests begin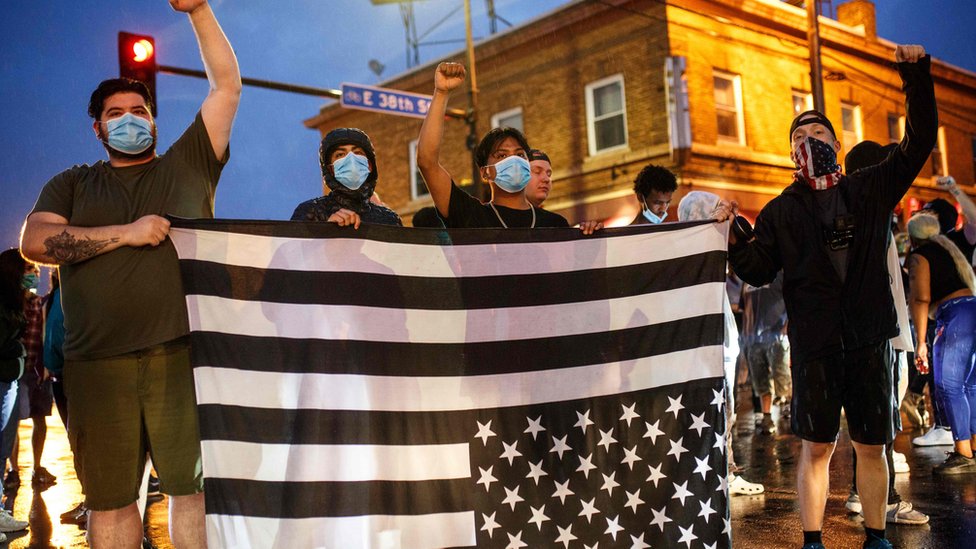 Four officers involved in the arrest of George Floyd are fired. Protests begin as the video of the arrest is shared widely on social media. Hundreds of demonstrators take to the streets of Minneapolis and vandalise police cars and the police station with graffiti.
Protests spread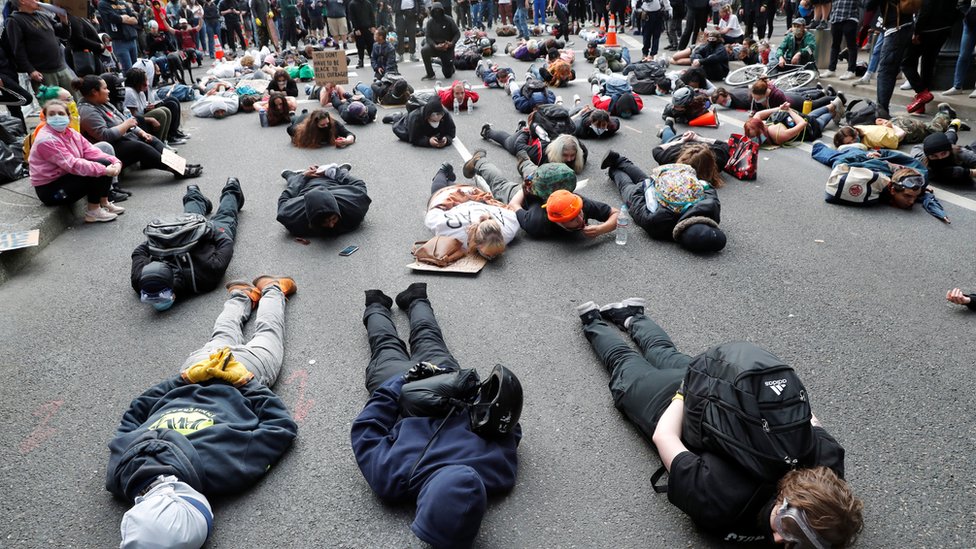 Protests spread to other cities including Memphis and Los Angeles. In some places, like Portland, Oregon, protesters lie in the road, chanting "I can't breathe". Demonstrators again gather around the police station in Minneapolis where the officers involved in George Floyd's arrest were based and set fire to it. The building is evacuated and police retreat.
Trump tweets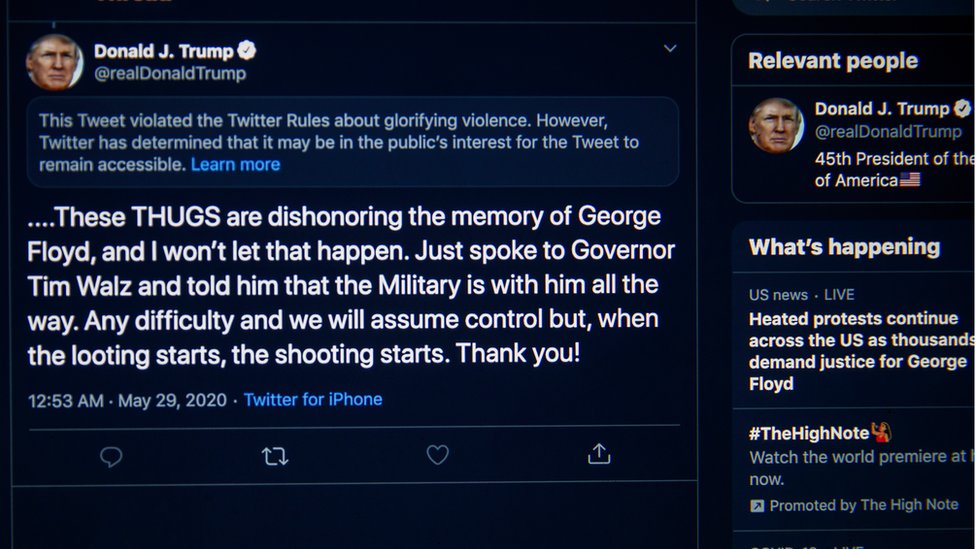 President Trump blames the violence on a lack of leadership in Minneapolis and threatens to send in the National Guard in a tweet.  He follows it up in a second tweet with a warning "when the looting starts, the shooting starts". The second tweet is hidden by Twitter for "glorifying violence".
CNN reporter arrested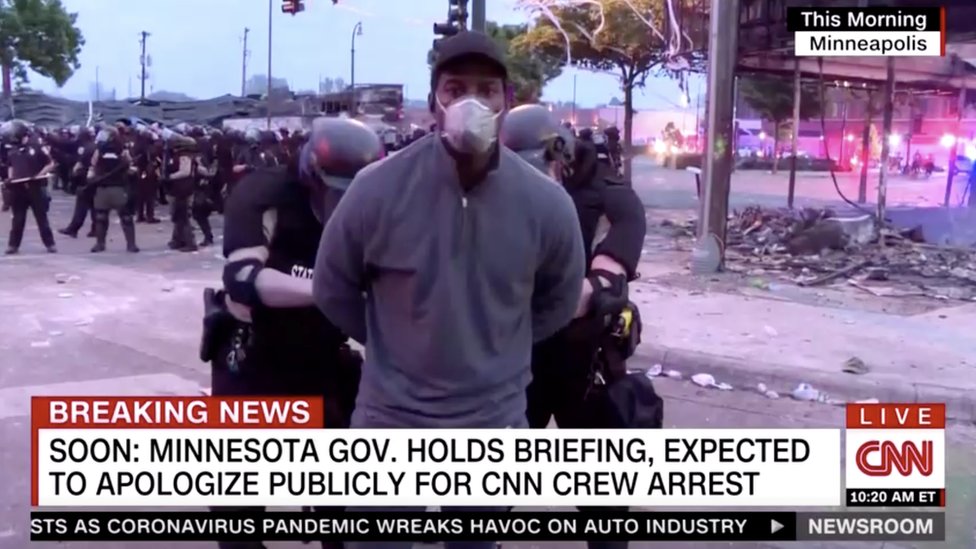 A CNN reporter, Omar Jimenez, is arrested while covering the Minneapolis protest. Mr Jimenez was reporting live when police officers handcuffed him. A few minutes later several of his colleagues are also arrested. They are all later released once they are confirmed to be members of the media.
Derek Chauvin charged with murder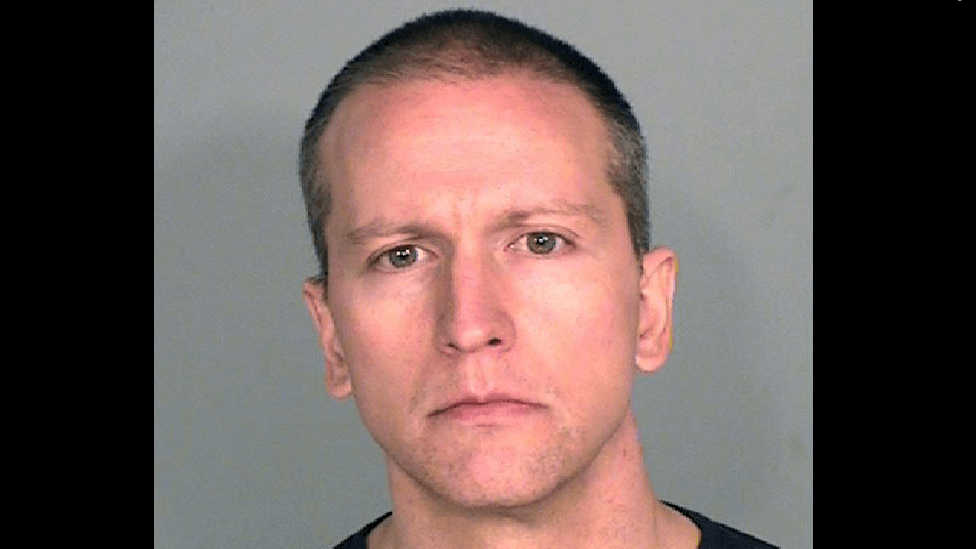 Former Minneapolis police officer Derek Chauvin, 44, is charged with murder and manslaughter. The charges carry a combined maximum 35-year sentence.
Sixth night of protests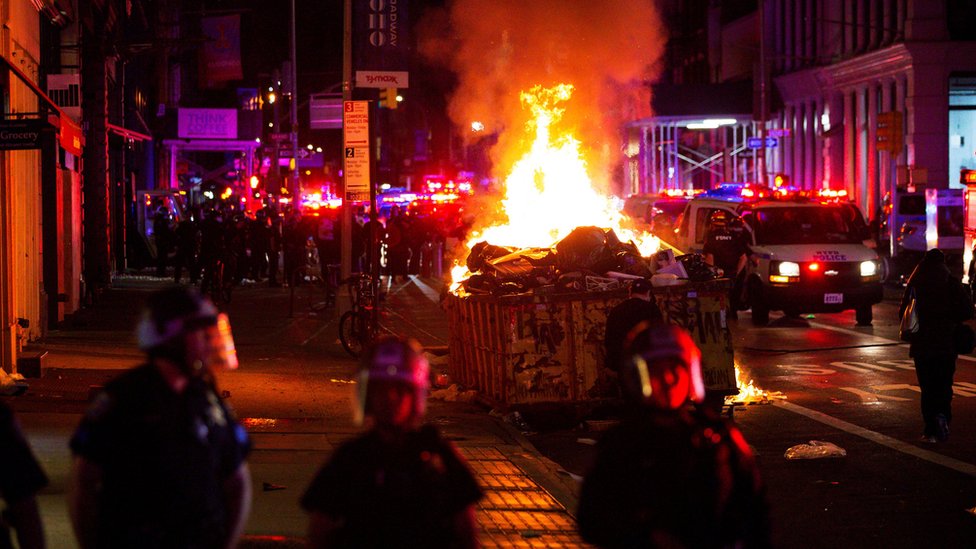 Violence spreads across the US on the sixth night of protests. A total of at least five people are reported killed in protests from Indianapolis to Chicago. More than 75 cities have seen protests. At least 4,400 people have been arrested.  Curfews are imposed across the US to try to stem the unrest.
Trump threatens military response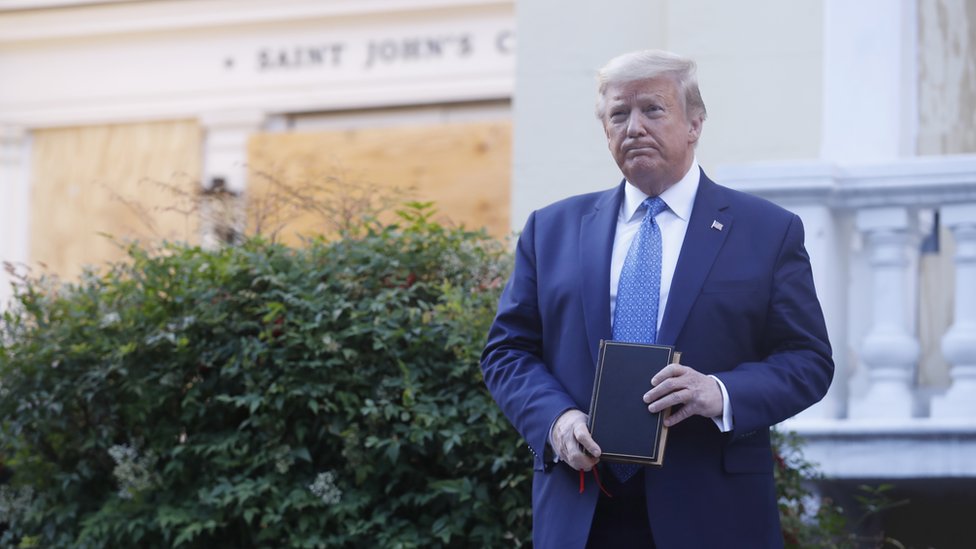 President Trump threatens to send in the military to quell growing civil unrest. He says if cities and states fail to control the protests and "defend their residents" he will deploy the army and "quickly solve the problem for them". Mr Trump poses in front of a damaged church shortly after police used tear gas to disperse peaceful protesters nearby.
Eighth night of protests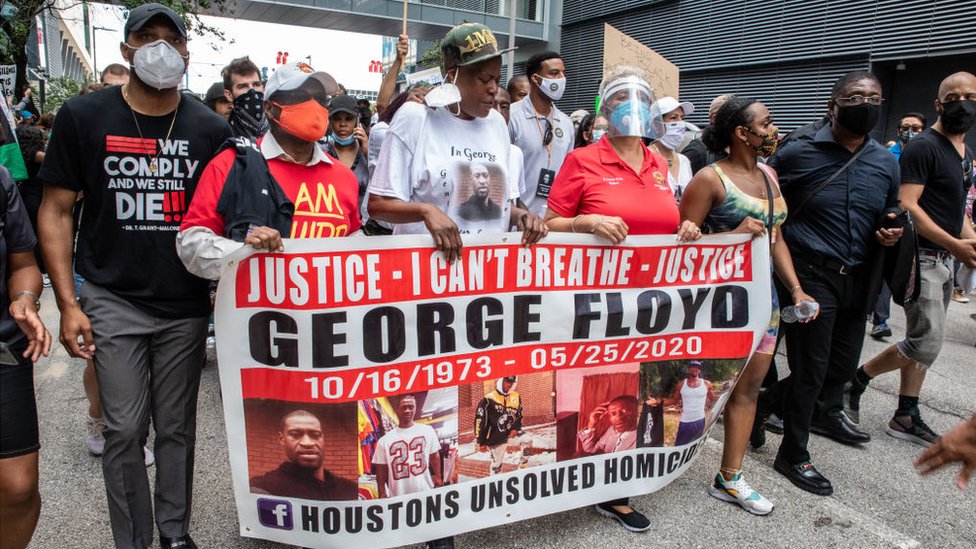 Tens of thousands of protesters again take to the streets. One of the biggest protests is in George Floyd's hometown of Houston, Texas. Many defy curfews in several cities, but the demonstrations are largely peaceful.
Memorial service for George Floyd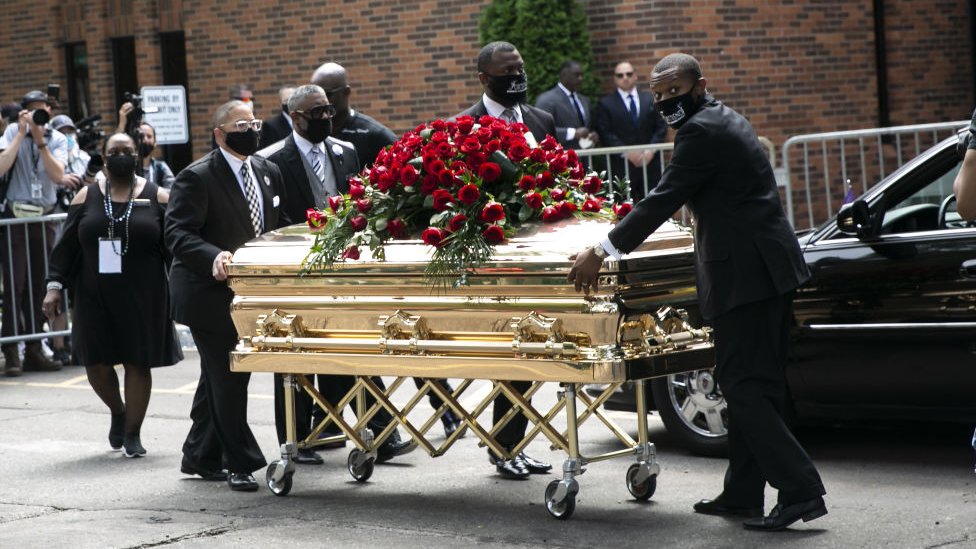 A memorial service for George Floyd is held in Minneapolis.  Those gathered in tribute stand in silence for eight minutes, 46 seconds, the amount of time Mr Floyd is alleged to have been on the ground under arrest. Hundreds attended the service, which heard a eulogy from civil rights activist Rev Al Sharpton.
International protests

As the US saw another weekend of protests, with tens of thousands marching in Washington DC, anti-racism demonstrations were held around the world.
In Australia, there were major protests in Sydney, Melbourne and Brisbane that focused on the treatment of indigenous Australians. There were also demonstrations in France, Germany, Spain and the UK. In Bristol, protesters tore down the statue of a 17th century slave trader and threw it into the harbour.
Funeral service for George Floyd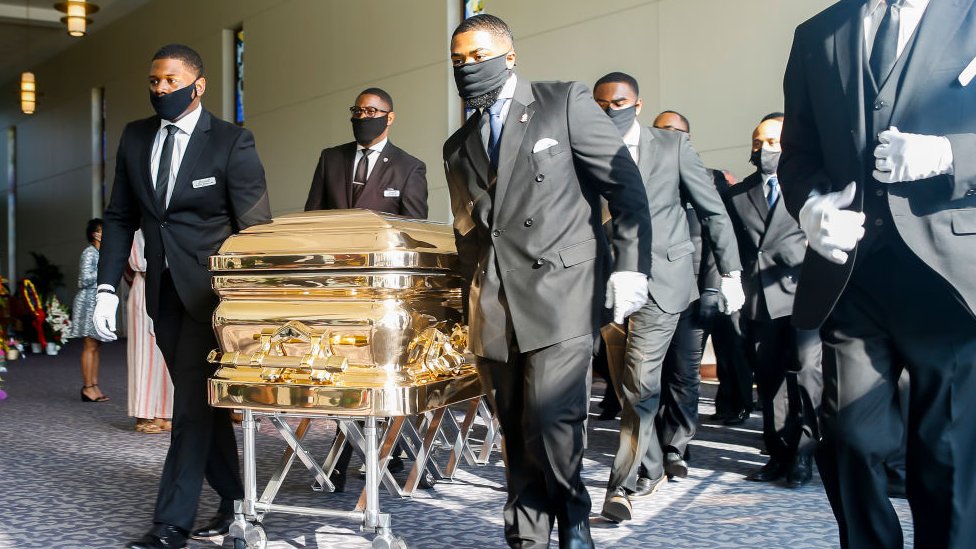 A funeral service for George Floyd is held in Houston, Mr Floyd's home town. Just over two weeks after his death in Minneapolis and worldwide anti-racism protests, about 500 guests invited by the Floyd family are in attendance at the Fountain of Praise Church.  Many more gather outside to show their support.
Read more from Reality Check
Send us your questions
Follow us on Twitter
Source: Read Full Article